My 17 year old son, Nikolai, helped Mr. B (aka Dad) cook up some truly delicious grilled veggies this week and he jotted down the simple recipes. Grilling brought out the vegetables' sweetness and gave them each a nice, tender texture. They make a lovely compliment to burgers, chicken, or fish or you could just enjoy them as the main course.
Today is the perfect summer day here in Brelinskyville.

Iced sweet tea, lemonade, fresh cookies, and dad fired up the grill.
mmmm…

So let me get right to the point.
Here's some epic recipes for grilled veggies!
Mostly they involve prepping the veggies, seasoning them, and tossing them on the grill.
There are simple and taste amazing.
Sweet Peppers

For these, you don't even have to do more than wash them.
As for seasoning, toss them in a big bowl, pour in some
olive oil, salt,
and
pepper
.
Give em a good toss and they're ready to be grilled up.
Roma Tomatoes

These get washed, cut, and then seasoned.
They need only a little
olive oil
, and then
salt, pepper
and
chopped basil
These were especially sweet and just the right texture (not too hard or squishy)
Eggplant
Eggplant is a little more tricky.
First, you need to peel the skin off and cut them into disks. About half an inch or so is a good thickness.
They then get seasoned with just a little olive oil, salt, pepper, and oregano.
I couldn't stop eating these. The spices were perfect.

Cornon the cob
First, you're going to want to pull out all the corn silk from the top of the corn.
However, do not husk the corn just yet.
Next, you're going to soak the still-husked cobs in water. This way, they won't burn on the grill.
Next, you're going to grill the cobs for a bit. The water will actually cause them to be steamed inside the husk instead of just scorched.
After they're done, you can husk the corn and season them with olive oil, cilantro, and creoleor cayenneseasoning.


There was a good balance of sweet and spicy, but you could skip the cayenne if you don't like a little heat.
Sweet Potatoes
Peel these and then cut them into thick slices. Place them in bowl and toss with olive oil, salt and Garam
Masala
(if you can't find that just go with cinnamon, nutmeg and cloves). Then grill until they are soft.
We like to serve these with a dollop of sour cream. Yummy!
Zucchini
After you wash the zucchini, you can cut off the tops and bottoms.
Next, split them longways in half.
Then, season them with a sprinkle of olive oil, salt, pepper, andchopped mint.
Now, they are ready for the grill.
Lots of people don't like Eggplant or Zucchini, but believe me; It's good stuff.

Don't be afraid to deviate and try new stuff!
Enjoy your summer everybody!
<div align="center"><a href="http://www.foodiefriendsfridaydailydish.com/" title="Foodie Friends Friday" target="_blank"><img src="http://i1271.photobucket.com/albums/jj628/busyvegetarianmom/FFFDDButtonNEW150Darker_zpse238f637.jpg" alt="Foodie Friends Friday" style="border:none;" /></a></div> – See more at: http://www.walkingonsunshinerecipes.com/2014/06/foodie-friends-friday-linky-party-101.html#sthash.r63zHyAF.dpuf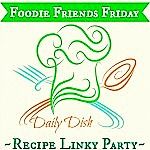 – See more at: http://www.walkingonsunshinerecipes.com/2014/06/foodie-friends-friday-linky-party-101.html#sthash.r63zHyAF.dpuf