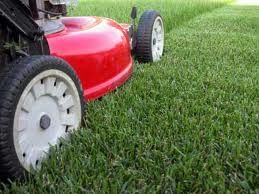 Perhaps you could blame it on late pregnancy nesting mode or maybe just that time of year, but I simply couldn't stand another minute of our overgrown yard, the
malodorousness of
turkeys under the back patio and all those forgotten plastic
cups strewn about the grounds. With a small army of children, one might fantasize that Brelinskyville runs like sap in summer, but alas too often these soldiers are hiding in their fox holes. The breaking point hit, I rallied the troops and doled out assignments.
Of course, knowing my children all too well, I took precautionary measures to prevent fatigue, heat exhaustion and over-active bladder evacuations. I provided cold beverages and locked the doors to the house.
With me as the constant fore-mama, my crew trimmed the bushes, weeded the garden beds, filled the compost, mowed the lawns, trimmed the edges, scrubbed the patio and transported the turkeys a little further from my nasal parameters. All in all a productive day, although much remains to be done from repairing the roof and chicken field fences to curing the black spot on the rose bushes and repainting the chairs.
More Laborers Hardly Seems The Problem
The day's tasks completed, covered in sweat and grass stains, I eagerly called it quits and headed straight for the shower. Under that hot streaming water, my mind recollected the parable from the bible about needing more laborers for the harvest (
Luke 10:1-9
). However, with seven children and one more on the way the necessity for more laborers hardly seems to be the issue in this household, rather I pray that they might embrace the threshing readily rather than planning to come late to the field while still expecting equal pay.
Washing away all that outdoor grime took a considerable about of effort and time (okay that's my excuse for taking full advantage of the peace, solitude and warmth of a long shower), so my thoughts continued to extrapolate. I remembered the many prayers I've offered requesting laborers for the Natural Family Planning ministry. As half of a teaching couple, I'm all too aware of the shortage of volunteers, not to mention physicians.
During a conversation with an area priest, he brought to my attention the severe lack of Spanish speaking NFP instructors and said this topic often comes up in the confessional. How frustrating it must be for him to offer spiritual direction, but lack the referral sources to aid couples in fulfilling their marital vocation when they've discerned a serious reason to postpone a pregnancy.
I am often privileged to hear from women who have questions about their fertility cycles and their practice of the method, but sometimes those questions would be best addressed in the physician's office. Unfortunately, if teachers are scarce, truly pro-life, well-educated (on the topic of NFP and morally licit infertility treatments) physicians are nearly non-existent in many areas of the country. In my own state, I've had to drive 4 hours from home to get the proper medical care.
Fresh and Clean, I Filed In
Later that evening, fresh and cleaned up after our busy work day, we filled in our usual pew at the vigil Mass. My parable ponderings had long since drifted away, but as Father began to proclaim the gospel they were summoned back. This Sunday's reading was the parable that had rambled through my brain earlier. Certainly a moment of Divine Providence speaking directly into my ears, as I hadn't prepared ahead of time and so had no earlier knowledge of this weekend's gospel message.
How biting was the reminder that this job as laborer was not intended to be an easy one.

"Start off now, but look, I am sending you out like lambs among wolves. Take no purse with you, no haversack, no sandals. Salute no one on the road." Jesus minced no words. He didn't attempt to sell a sanitized version of the opportunity He had to offer, no bait and switch from Christ. He was sending seventy-two men out before Him with the promise of detractors eager to devour them and no material provisions to allay their temporal concerns.
When my husband and I were certified to teach the sympto-thermal method through The Couple to Couple nearly ten years ago, we were on-fire evangelists, laborers ready to charge into the fields. Books in hand, slides in the projector, we thought our zeal would be enough to spark an increased interest in our parish. Instead our booth at the parish ministry fair caused friends and acquaintances to make a wide circle around us. Like we were enclosed in an invisible bubble, they avoided all eye contact and left us feeling less than successful in our mission to share the Truth.
We soldiered on through the years content that God had a purpose for us in this ministry; however, a few years ago after so many personal trials I began to doubt. On the other end of the advice line, I stood confused and disappointed. Unable to figure out the answers to my own health/fertility questions, how could I continue to minister in this capacity. How could a farmer offer advice on how to grow a healthy harvest when his own crops were failing?
Having made up my mind with my husband's full support, we were dropping the plow and throwing down the hoe. Someone else could do a better job. Someone else, who was filled with that zeal we'd long since lost, could step into our role.
Where Were Our Provisions?
Now listening to the gospel parable, I realized we'd been hoping for provisions. Having set up camp in out-lying southern towns, as opposed to bigger cities like Raleigh, we'd figured the couples would come ("build it and they will come"). Support from the diocese to promote our classes and committed babysitters to
make teaching engagements workable weren't forth-coming. In these later years with my own fertility world turned upside down, I'd expected readily accessible aid. I wanted a purse, a haversack and sandals. I wanted to salute my fellow sojourners and have them salute back to me. But none of this was ours to have and we'd forgotten Christ's instructions.
The lambs among wolves promise had nearly always been apparent, but in the earlier days of our ministry, I felt like a strong, healthy sheep able to withstand the attacks. Now older and wounded, the wolves of doubt and despair found me easy prey.
Of course, no sooner had we privately declared our decision to quit, then Father requested that we teach a group of couples he was preparing for marriage. Ugh! Really? Saying, "no" to Father is harder than telling a teary, smiling, wide-eyed toddler who's just given you a bear hug they can't have the last cookie in the jar.
So much for our plans to flee the fields, we taught that class and a few more since. And at present we're poised to schedule next year's class line-up.
I'm still praying for God to send more laborers because they are desperately needed, but for now I'll accept my part in working the harvest. The wolves continue to howl in the background, but we're assured that the Shepherd will never leave us lost in the wilderness. While the provisions we'd choose might be lacking, those He offers are more than enough to pay the wage.