She wasn't the equivalent (exactly) of Mommy Dearest, but writing Sister Margaret a love letter felt about as genuine as that scene from the movie. Penned from the point of view of the actress' daughter, the movie portrayed an abusive mother who required her children to quip, "We love you, Mommy Dearest" whenever she requested it.
Someone (whose name would only be shared in whispered circles) had used a bottle of squeezable margarine to etch "I hate Sister Margaret" on the school yard black top. And apparently the squeezable oil emulsion stains black top so the hateful message couldn't be stripped away by our diligent janitor before Sister made her morning crossing from the convent to the school house door.
While she may have presented herself as a hard-nosed enforcer with little patience, on that day we all saw her human-side. Her ruler-wielding nun persona was softened by the tears that escaped the corners of her penetrating glance.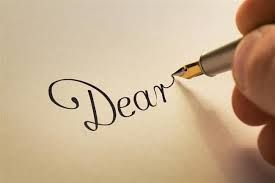 Her sisterly Sisters, wanting to comfort her injured heart, had each one of us children write, draw and scribble love letters. Of course, as I said the sincerity may have been missing for more than a few of us, but nonetheless we obliged and completed the assigned task.
A valuable lesson, I've carried that memory with me into adulthood and allowed it to influence my parenting. Yes, I could understand the author's angst toward Sister Margaret, but his (oops, is it okay to identify the proper gender three decades after the crime?) public outcry warranted correction. And I think that in requiring all of us to write a love letter, we learned communally to say sorry and to reflect on our actions and their potential to affect others.
How easily we spout our opinions and admonish our enemies, and children are especially impetuous in this regard. While I'd like to pretend my own children are sweet-little darlings at every moment, incapable of uttering a harsh word, honesty calls me to accountability. In this regard, I carry with me the wise advice of a peer-mama who once told me that having so many boys (four) taught her to never doubt their ability to do the things they were being accused of.
So while my motherly gut response at times wants to beg, "No, never, not my cherubs, you must have your story wrong," I've learned to listen to serious accusations (there have been a few) and investigate before banging the gavel on the side of dismissal. And more times than not, I must insist that the perpetrator issues an apology, whether in person, via the telephone or in writing. Admittedly, not every apology is fully heartfelt or freely given, but the very action of taking personal responsibility goes a long way in teaching the child that our words and actions have consequences.
When we hide our ugliness in secrecy or cover it with denial and excuses, it more easily becomes habitual. By contrast, saying I am sorry shines a light on our choices and hopefully sparks an amendment of life.
After being graduated from Catholic grammar school, I don't recall entering a confessional again until I was a married adult with four children. I suppose I'd shelved the lesson of the love letter for a while and the more time that passed the more difficult it felt to face my sins. I justified, ignored and excused because that seemed less painful than the necessitated sorry. But mothering led me to reconsider my perspective and the example being displayed.
My transgressions stained my conscience like that black-top insult, but God's mercy was only an apology away. And what a beautiful reason to love the confessional because it calls us to true accountability. Saying, "I am sorry" to Christ represented by a flesh and blood individual bears a visual and auditory truth. That is to say, by speaking our contrition to a living person (in persona Christi) we are forced to recognize the hurt we've inflicted on the Living God. In response, we hear His loving reply of absolution.
Too often as of late, people are publicly shirking their responsibility. Like a shell game, they shuffle blame from one office or department to another. We see it in politics, we see it in jury rooms, on television, and in classrooms. Saying I am sorry seems to be a lost virtue. In truth, just like we find the shell dealers' integrity to be suspect, so we also lose faith in the ones who make a habit of avoiding those three powerful words.
Reclamation of the virtue of contrition is a necessity if we are ever to rise from this mire of evil that seems to be fast engulfing our culture. Even if our first baby steps lack the full depth of sincerity, there is merit to be gained in learning to apologize. Like the love letter caused us students to realize Sister Margaret had real feelings, so our first sorry reminds us that we have the power to injure. Conversely, in saying, "I am sorry" we not only accept our part, but we learn that we have the ability to heal those wounds.