Did you ever have a problem that you didn't even realize you had? Like stinky feet or bad breath? No, not that kind of problem. Those kinds of maladies usual illicit someone's response. But, sometimes, we can suffer from a dilemma without ever realizing its existence and the impact it has on our lives. From childhood traumas to youthful heart breaks to adult disappointments, we can bear invisible scars throughout a lifetime. Like an old sports injury, those scars can impede our present actions, cripple our faith, or leave us with a spiritual limp.

Though I was long aware that my personal relationships were influenced by the scabs on my heart, I'd remained somewhat oblivious to the spiritual limp I'd developed. Until, while sitting in my priest's office and crying out my trials, Father made a subtle, gentle observation. Asking about my daddy-daughter bond, he explained that we often see and relate to God, our Divine Daddy, in terms of our earthly fathers. We place on God the same judgments we place on our worldly dads. Expect from God the same reactions and temperaments we've been conditioned to expect from our papas.
Wow and ouch! My father and I have had an on-off, relationship for as far back as I have memories. In truth, his own daddy-son bond was shattered.
Limping Along
As my priest related the correlation between our Heavenly and earthly dads, I became distinctly aware of the limp in my gait. At the same time that I was attempting to run to my Lord for consolations and assistance in bearing my crosses, my spiritual legs were holding me back.
What I'd perceived as an inability to pray was, in truth, a distorted perception of God's ability to hear. Judging God, the Father, in terms of Old Testament wrath, I'd overlooked that He is the God of agape, of mercy, of compassion; the Father Who'd heard Moses' argument in defense of a hard-hearted people and withdrew His hand of correction; the Father Who gave His only begotten Son in reparation for our countless sins; the Father Who loves unconditionally, forever. I'd overlooked His ability to forgive without reserve, without harboring grudges. I hadn't fully internalized that God's Fatherhood is unbreakable, our childhood unseverable.
A Visualization
Around the same time that my priest unveiled my handicap, my spiritual director created a visualization that has been etched into my mind ever since. He placed me on the lap of God, my Father. He told me how loved I am; called me God's little princess.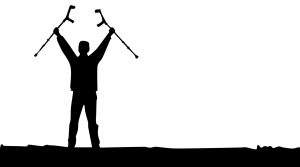 How awesome is God that He knew my impediment and placed people in my path who could heal that wound.
He wants to heal you, too.
That mental picture has become a refuge, a source of regeneration. Now and again, I climb into my heavenly Dad's lap, rest my head on His firm breast, slip my hand into His secure grasp and accept His tender kiss on my forehead. We talk very little, although He'd listen all day. He's restored my brokenness, eagerly embraced me like the father of the prodigal son. He only needed for me to recognize my poverty, so that He could restore my gait and meet me halfway down the path to our reunion.
You Are Invited
Today is the celebration of The Last Supper. So, recline yourself at table with Jesus and the Apostles. Sit beside Jesus so that you can feel His shoulder brush against yours. Listen intently to His words, hear the tone of His voice. Watch His movements, His expressions, as He raises the chalice and transforms simple bread and wine into His Body and Blood. Know that you are truly in Christ's Presence. If there are obstacles between you and Him, or between you and His Father or His Holy Spirit, let them be stripped away in the confessional. Let them drop to the floor like crumbs to be swept up and discarded.
Today, you are invited to The Supper of The Lamb. Your spot has been reserved, your chair is empty and cannot be filled by any other. Come, join the Lord. Let nothing get in your way. If your want to run to Him is slowed by some old injury, limp to Him. He will heal your spiritual wounds and restore the vigor of your faith.