Welcome to Brelinskyville
You might want to watch your step as you navigate between the dirty socks, stray shoes, empty cups and chicken feathers.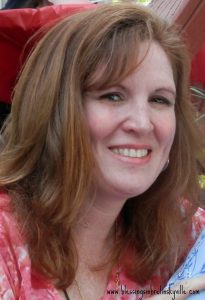 I'm Tara K. E Brelinsky, the home schooling mother of 8 living children, with 6 more heavenly ones. Married to my childhood sweetheart, we've made our home in North Carolina.
We've been married twice to each other (but never divorced- go figure that one out) and together we've taught Natural Family Planning, run a family business, and care for a menagerie of animals (in addition to all those wonderful kids).
A Passion for Writing
I studied journalism a lifetime ago in college, but temporarily traded my aspirations of becoming a world-renowned author for sticky hugs and lessons learned around the dining room table.
From time to time my one-armed feats ('cause my second arm is usually busy wrestling an octopus or cleaning some random mess) extended to writing short musings and inspirations (on faith, family, home schooling and NFP) which I then emailed to everyone in my contact list.
Fearing some friends and family members didn't quite appreciate my unsolicited thoughts in their inbox, I asked God for an outlet for the many stories that ramble through my head and this blog was the beginning of my answer.
Bigger Plans
Additionally, in 2012, I was asked to speak at a women's conference about my journeys through the desert of suffering and it was there I realized that God's plans for me were bigger than I'd first imagined.
In time, I gathered up the confidence (and courage) to submit my work to legitimate publications and conference venues; thereby, taking the first steps forward as a professional, freelance writer and speaker.
Contact Me
If you'd like to drop me a note, ask me a question, or offer me a job, contact me at tara.brelinsky@gmail.com.
Where to Find Me
A few of the places where my work has been featured include: